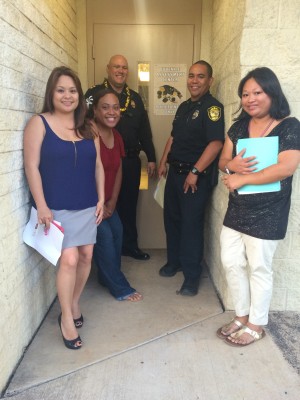 Susannah Wesley Community Center (SWCC)'s Kalihi Palama Juvenile Assessment Center (KPJAC) began accepting referrals from the Honolulu Police Department as of Monday, March 16, 2015.
The KPJAC is a part of Ho'opono Mamo Citation Process, a new juvenile justice diversion program that focuses on a culturally appropriate approach to working with youth and families. The program is designed to guide youth and their families away from the juvenile justice system to an avenue of supportive community services and programs. In collaboration with the Honolulu Police Department, District 5 (Nu'uanu through Moanalua), civil citations will be  issued to youth apprehended for a first time misdemeanor or a status offense.
Through the KPJAC, case managers will assist youth and their families to develop individualized strategies to an appropriate pathway in order to better address the challenges they may be facing. The process is a result of a study on Disproportionate Minority Contact (DMC) in the juvenile justice system conducted by University of Hawai'i's Department of Urban and Regional Planning and commissioned by the Juvenile Justice State Advisory Council (JJSAC) and the Office of Youth Services (OYS).
A kick-off was held on Friday, April 10, 2015, at SWCC's Youth Service Center, and began with a blessing by the Reverend Samuel Domingo of the Kilohana United Methodist Church. Reverend Domingo grew up in Kalihi and had fond memories of Susannah Wesley Community Center from his youth. He attributes the agency from keeping him out of mischief and providing him with a solid foundation.
Mr. David Hipp, Executive Director, State of Hawai'i, Office of Youth Services, shared with the group of around 100 attendees, how the input and the partnerships of the state departments, agencies, courts, the police department, kūpuna, and citizens made the civil citation program a reality.
"Three quarters of (juvenile) arrests in the Farrington and Moanalua school areas during fiscal year 2014 comprised of status offenses and petty misdemeanors. There is no need to criminalize our kids. Yes, we need to hold them accountable for their actions, but we as a community also need to address their troubles immediately upon arrest.  Results show that most of these kids have troubles in their personal lives", said, Hipp.
"Every child needs to feel protected, nurtured, and loved, but not every youth has this. We need this program so that our youth of today are provided a second chance, they need that opportunity to become stellar members of society", said Gary Nakata, Director Designate, City and County of Honolulu, Department of Community Services.
"HPD is fully committed to supporting the Ho'opono Mamo civil citation program. This program offers hope for our keiki and their families who are caught in the darkness of the juvenile justice system. Sometimes a ray of hope is all that is needed to get these families back on the right track", said Captain, J Pedro, Honolulu Police Department, Community Affairs Division.
Funding for this pilot project is made possible by the State of Hawai'i, Office of Youth Services, in collaboration with the City and County of Honolulu and support from the Hawai'i State Legislature.
See media coverage by Civil Beat on the Ho'opono Mamo Project.