On T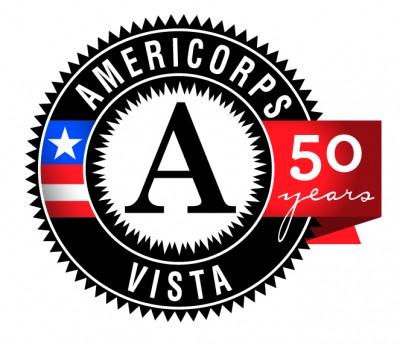 hursday, November 12, 2015, the Corporation for National and Community Service in partnership with Aloha United Way held its AmeriCorps VISTA(Volunteers In Service To America) 50th Anniversary Celebration at the Neal S. Blaisdell Center to recognize and thank the VISTAs serving in Hawai'i. As an AmeriCorps VISTA sponsoring agency, SWCC's VISTA, Roan Peters, and Program Administrator, Carol Imanaka, were invited to participate in the celebration. SWCC has sponsored two full-time VISTAs and seven summer VISTAs for the past two years.
Senator Suzanne Chun-Oakland welcomed all those in attendance with these opening remarks: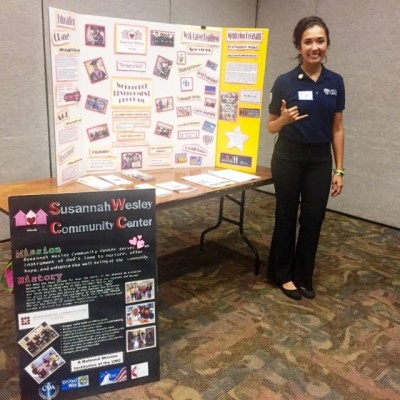 "It is my great pleasure to welcome all of you to the AmeriCorps VISTA 50th Anniversary Celebration. My heart smiles to see community
members, friends, and all our national service participants, Foster Grandparents, Senior Companions, RSVP, AmeriCorps State and National, and of course AmeriCorps VISTA here to celebrate this historic and special occasion."
Senator Chun-Oakland acknowledged the dignitaries in attendance who included Senator Mazie Hirono, Jay King, representing Congresswoman Tulsi Gabbard, members of the State Legislature and City Council, staff and members of the Hawaii Commission for National and Community Service, Cindy Adams, president & CEO of Aloha United Way, Amy Dailey, Pacific Area Manager and Derrick Ariyoshi, Hawaii State Program Director with the Corporation for National and Community Service.
Senator Chun-Oakland provided a historical background on the AmeriCorps VISTA program and the impact it has had in Hawai'i:
"This year marks 50 years, a half century since President Lyndon B. Johnson declared war on poverty which was instrumental in the passing of the Economic Opportunity Act and the birth of AmeriCorps VISTA (Volunteers in Service to America). AmeriCorps VISTA members make a year-long, full-time commitment to serve at a nonprofit organi
zation or public agency. With passion, commitment, resourcefulness, and creativity, they create or expand programs designed to bring individuals and communities out of poverty across the country and right here in Hawaii. As a State Senator and active member in the community, I have witnessed firsthand the impact and transformative power of AmeriCorps VISTA. So today, we recognize AmeriCorps VISTA past, present, and future. We honor the proud legacy of our early programs in the 80's such as Hui Malama Learning Center on Maui in which VISTA members recruited over 300 community volunteers to support ESL, GED, and adult literacy programs. We recognize current programs such as Malama Kauai who are building natural and sustainable food resources for residents of Kauai. We cheer for future programs like Aloha United Way that will deploy twelve AmeriCorps VISTAs in February next year to local non-profits across the State of Hawaii. Most importantly, we recognize you, our AmeriCorps VISTAs and all our national service members for your compassion, selflessness, and Aloha to those you serve."
The keynote speakers included Amy Dailey, Corporation for National & Community Service – Pacific Area Manager, who shared comments on the transformative power of VISTA, acknowledged current VISTAs, Alumni and VISTA sponsors, shared visions for the future of AmeriCorps VISTA in Hawai'i and recognized Aloha United Way; Jeff Gilbreat
h, VISTA Alumni and CEO of Hawaiian Community Assets, who shared his VISTA experience and its lasting impact on him and his transition from VISTA to CEO of Hawaiian Community Assets and current VISTA sponsoring organization; Bryan Gissal, VISTA member with Hawaiian Community Assets, who shared his VISTA story of why he became a VISTA, his current service story a
nd what he will take with him in the future; and, Senator Mazie Hirono, who gave examples of the people she knew who participated in the VISTA program and expressed gratitude for its ability to produce leaders.
Robert Lee, Protocol Officer read and presented the Governor's Proclamation to Derrick Ariyoshi and Gary Nakata, Director of the Department of Community Service read and presented the Mayor's Proclamation to Derrick. A special Pinning Ceremony was also held to hon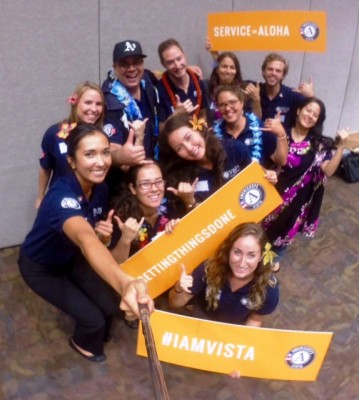 or Veteran volunteers in the Senior Corps and RSVP programs and those volunteers serving military families.
Following the celebration, Aloha United Way held a Community Solutions Forum for community leaders and stakeholders from across the public, private, and non-profit sectors to come together and discuss where issues exist and where opportunities to support the well-being of our community, across generations, from keiki to kupuna, can be developed, which included ways the community can use VISTA resources to eliminate the barriers prevalent against the war on poverty. The robust discussions on preventing poverty in our community included four areas of interest—early childhood, youth, college/career and kupuna—and addressed what public leaders need to know, how to support service providers and in what funders should invest.
Mahalo Hawai'i AmeriCorps VISTA Ohana!
By Roan Peters, SWCC AmeriCorps VISTA, 2014-2015