From April 25-27, Louisville, Kentucky welcomed more than 7,000 United Methodist Women (UMW) and men, for the 2014 UMW Assembly, to address the theme "Make It Happen." Our Executive Director, Ron Higashi, SWCC Board President, Adele Lum, and Human Trafficking Program Coordinator, Shantae Williams, were in attendance as guests of the National UMW office. During the Assembly, over 75 workshops were offered as participants learned about salient social justice issues facing women, children and youth throughout the world. Ron and Shantae, along with Liz Dunbar & Janjay Innis from the Tacoma Community House led a workshop entitled, "National Mission Institutions Link to Service and Advocacy." The workshop highlighted advocacy work centered on immigration and human trafficking. The workshop was well received with over 200 attendees and Shantae said that she was honored to be able to present Susannah Wesley Community Center's work with Human Trafficking victims and survivors. One of the UMW's Mission Focus Issues is human trafficking,
The link to the United Methodist Women's page is: http://prod.umwomen.org:88/assembly
Contributing Authors: Adele Lum & Shantae Williams
Who are  the National Mission Institutions of the United Methodist Women?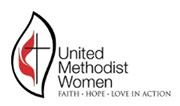 Susannah Wesley Community Center is one of nearly 100 National Mission Institutions in the United Sta tes. National Mission Institutions empower women, care for children, educate and build youth, look after the neglected, advocate for social justice, create economic opportunities and change neighborhoods.