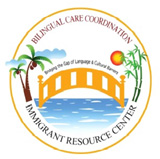 For over a half a century, Susannah Wesley Community Center (SWCC) has been at the forefront to meet the needs of Hawaii's ever-changing and dynamic immigrant community. Located in the heart of the community as a safe shelter to come home to and a safe space to help newcomers to acculturate into American society. SWCC is home one of two Office of Community Services funded Immigrant Resource Centers on Oahu. To the right is the IRC's logo which embraces Susie's rich history of bilingual care coordination. The beautiful logo which depicts the saying "bridging the gap of language and cultural barriers" was designed by Mrs. Kyung Suk Lee's niece who is a graphic designer in Korea. Mrs. Kyung Suk Lee is Susie's IRC Program Coordinator.
The IRC helps new immigrants to navigate the system of resources and services available to them with the goal of becoming more economically self-sustaining members in our society. The IRC provides:
Outreach materials to non-English speaking populations via community awareness programs,
Conducts Intake and Needs Assessments to determine eligibility and development of an Individualized Service Plan.
Acculturation Information to provide guidance to clients regarding the skills required to meet every day needs (e.g. housing, banking, shopping, access to employment, social and health services, and their rights and obligations).
Functions as a connector between clients and the services they need; the core component involves referrals to community services to meet a clients' immediate needs.
Susie's bi-lingual case managers are a natural fit to help provide oral interpretations or written translation related to the needs of the clients with a limited capacity to speak, read, and understand English.
Assists with solution-focused counseling, helping clients to articulate their problems to find appropriate referrals.
Most importantly, the IRC is evidence of advocacy work, assisting service agencies and the community, in providing cultural sensitivity trainings and workshops to help educate the general public.
Please contact Mrs. Kyung Suk Lee at (808) 440-5824.
SWCC Spring 2014 Newsletter 2014 Spring Newsletter.